Susan Gunelius Content Marketing For Dummies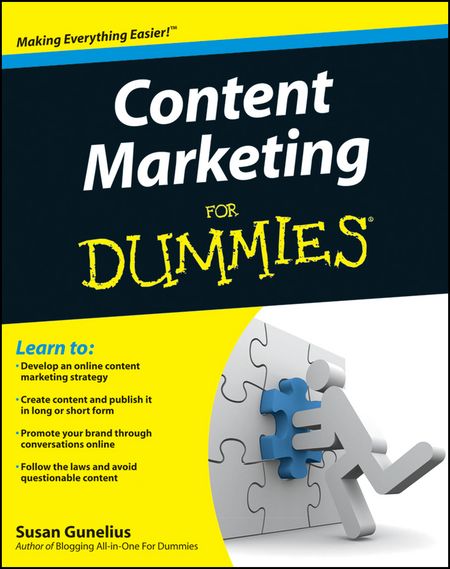 Get the whole picture and learn to create a successful online content marketing program Successful online marketing is about more than creating a Facebook page or writing a corporate blog. Brands need to build lasting connections with the right customers online through an effective online content marketing strategy, and this book shows you how. It explores ways to create a content marketing strategy, identify the content that will keep your customers coming back, create that content, distribute it online, and measure the results, with hands-on, step-by-step guidance. Content marketing is an essential element of successful online marketing and brand-building; this book shows you how to begin creating and distributing content online to market your business Explains why content marketing is important and how to create an online content marketing strategy, which tools to use, and what to avoid Shows how to create content and get it published online in long or short form Offers plenty of tips, case studies, and worksheets to ensure success Online content marketing positions your business and your product for lasting customer interaction; Content Marketing For Dummies gives you the tools to create a program that works.
/ / похожие
Подробнее
Stephanie Diamond Content Marketing Strategies For Dummies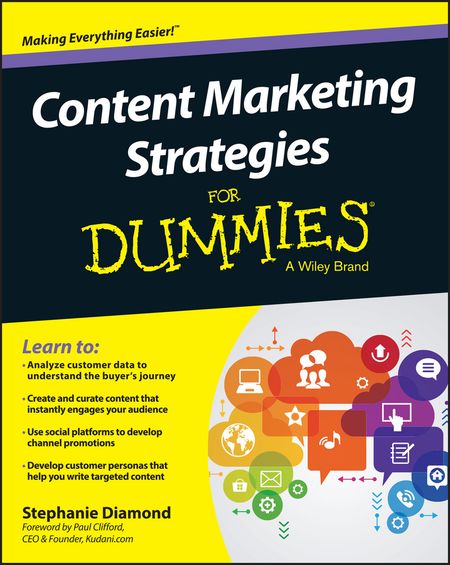 Drive your content marketing campaign toward success Blogs and social platforms are all the rage right now—especially for strategists looking to cultivate influence among target audience members through content marketing. Content Marketing Strategies For Dummies explains how you can use content marketing to gain an edge over your competition, even in the most crowded of marketplaces. This timely text introduces you to the Five C Cycle: Company Focus, Customer Experience, Content Creation, Channel Promotion, and Closed-Loop Analysis. The Five C Cycle drives the creation and documentation of a targeted content marketing strategy, and allows you to approach your content marketing campaign with confidence. By helping you determine your company's focus, uncover your customers' experience with data, develop channel promotions across social platforms, create actionable online content, and use closed-loop analysis to build on previous success, this will become your go-to content marketing guide. Content marketing entails creating and curating content online via blog posts, social media platforms, and more. The goal is to acquire and retain customers by creating content that brings value to their lives, and that encourages them to engage with your brand. This easy-to-understand guide will help you do just that. Analyze customer data to better understand your target audience's journey Leverage social platforms, such as Facebook and Twitter, to develop channel promotions Create and curate intelligent, engaging content that leads to action Build upon your previous success with closed-loop analysis Whether you work for a large corporation, are part of a small business, are a solo thought leader, or are an educator, Content Marketing Strategies For Dummies tells you how to gain a critical, competitive advantage through targeted content marketing strategies.
/ / похожие
Подробнее
Consumer Dummies Small Business Marketing Strategies All-In-One For Dummies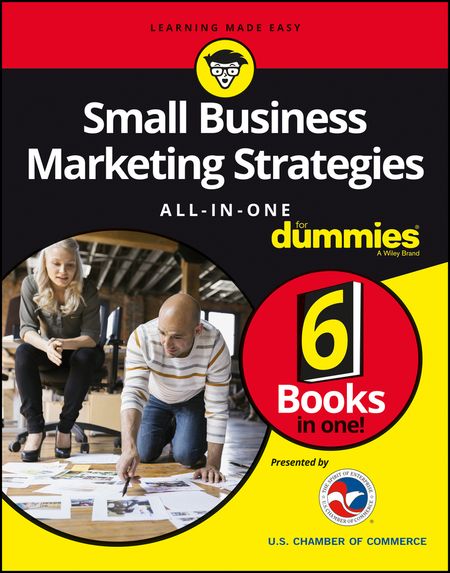 6 Books in 1 Generate high-impact marketing campaigns There's more to a successful campaign than spinning the marketing wheel of fortune and hoping for the best. This all-encompassing guide shows you how to develop and execute winning plans that result in growth and revenue every time. Get ready to incorporate tried-and-true marketing methods that will put your small business on top. 6 Books Inside… Setting Up Your Marketing Foundation Getting Started with Your Campaign Content Is King: Content Marketing Using Social Media Incorporating Traditional Marketing Measuring Results
/ / похожие
Подробнее
Jenny Ng Influencer Marketing For Dummies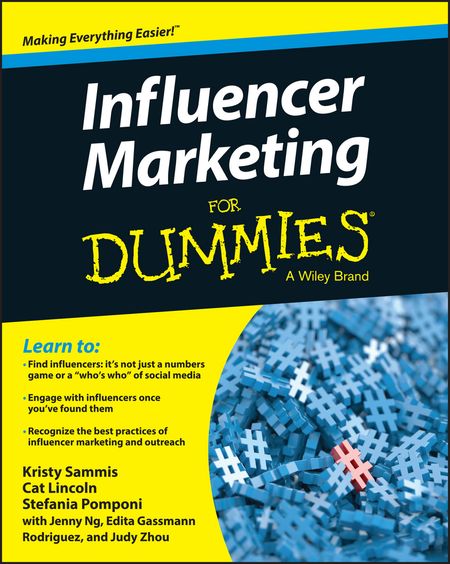 The easy way to get 'in' with influencer marketing Are you a marketing guru looking to stay at the top of your game? Then you need to be in the know on influencer marketing. A hybrid of content marketing and native advertising, influencer marketing is an established trend in marketing that identifies and targets individuals with influence over potential buyers. Although this has usually meant focusing on popular celebrities and Internet personalities, there is a new wave of 'everyday consumers' that can have a large impact. In Influencer Marketing For Dummies, you'll find out how to market to those who rock social media—and, subsequently, grow your brand. Influencer marketing relies on building strong relationships with customers. With the help of this hands-on, friendly guide, you'll discover how to build superior customer service and experience, make strong interactions with customers, and encourage organic and authentic sharing about your brand. Measure the most impact that content has on your overall marketing strategy Find influencers: it's not just a numbers game or a 'who's who' of social media Engage with influencers once you've found them Recognize the best practices of influencer marketing and outreach If you're a marketer, media agency professional, business owner, or anyone else who works hard to bring brands, products, and services to the largest audience possible, Influencer Marketing For Dummies is the go-to guide you don't want to be without.
/ / похожие
Подробнее
Krista Neher Visual Social Marketing For Dummies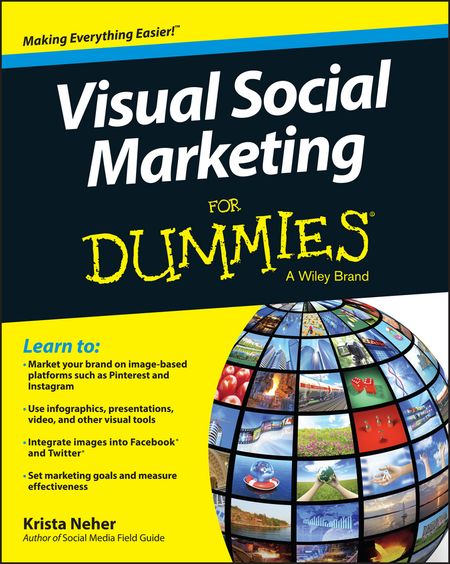 How to implement a best-in-class visual marketing plan It's no secret that visual content online really draws in viewers. People love Pinterest, Facebook, and the like for visual sharing and engaging. Smart marketers know their companies need to tap into this, but where and how to start? Visual Social Marketing For Dummies offers a clear roadmap for creating effective, well-defined visual social marketing strategies as part of your overall marketing and social media plans. From defining goals to developing highly visual content across a range of social media platforms, this book is the perfect step-by-step guide to get you there. The book explores Pinterest, Instagram, Vine, Tumblr, YouTube, SlideShare, and Twitter, among many topics and resources, and includes useful examples from leading brands and companies across a variety of industries. Helps you set goals that align with your budget and resources and then lay out a visual social marketing plan Covers image-based platforms, such as Pinterest, Instagram, and Vine, as well as social media platforms including Facebook, Tumblr, YouTube, Twitter, and SlideShare Explores visual tools, including infographics, presentations, and video Explains how to track and measure the effectiveness of your visual marketing efforts Make your brand stand out from the crowd with the information, tips, techniques, and examples you'll find in Visual Social Marketing For Dummies.
/ / похожие
Подробнее
Content Marketing Made Easy
"Susan Crossman, marketing expert and author of several critically acclaimed books, offers clear, easy-to-follow advice to make anyone - even a complete novice - a content-marketing pro in no time... great tips and techniques to give you the edge you need." - Michael Davie, author, Winning Ways We are moving towards a world where a huge percentage of business is done online and if you are not playing in that field, eventually you aren't going to have a business... the revolution has only just begun... the only constant in our world is change itself... Pretending these changes aren't happening won't make them go away. I believe that developing and polishing our online content is the key to the kingdom... it is a process that can be taught, learned and duplicated. Once you have a program up and running, it's a straightforward way to generate more business... Online marketing can be intimidating, no doubt about it, and I spend my days simplifying it for business people so they can generate more revenue as a result of their online activities. We focus on a subset of online marketing that currently flies under the label of content marketing." By the end of this book I aim to help you figure out what that is, why it's important and how it works, and hopefully I'll be able to crack open a door to the future for you and your business that is filled with possibility." - Susan Crossman, author, Content Marketing Made Easy - Why You Need It / How To Do It Susan Crossman is a veteran wri...
/ / похожие
Подробнее
Digital Marketing For Dummies
Written with the marketer's best interests in mind, this friendly, down-to-earth guide shows you how to use proven digital marketing strategies and tactics to expand the reach of your brand, increase audience engagement, and acquire and monetize customers. From current best practices in SEO and SEM to the latest ways to effectively use content marketing and influencer marketing - and everything in between - Digital Marketing For Dummies helps you get the most out of all your digital marketing efforts.What worked in digital marketing just a few years ago is quickly losing relevance as electronic platforms - and the people who use them - continue to evolve. So how do you keep afloat in this fast-paced and ultra-competitive environment? Don't sweat it! Digital Marketing For Dummies takes the guesswork out of marketing in the digital age, offering the latest tips and techniques for utilizing technology to get your product or services out to the masses. Whether you're looking to craft a killer campaign from scratch or just want to beef up your social media presence, you'll find everything you need to meet your business goals - and boost your bottom line.- Develop an individually tailored digital marketing campaign- Offer an effective lead magnet to convert visitors- Keep your audience invested in your brand, products, and services- Create a return path with frequent and strategic communication with your customersIf you're ready to benefit from the latest and greatest digital marke...
/ / похожие
Подробнее
Lee Odden Optimize. How to Attract and Engage More Customers by Integrating SEO, Social Media, and Content Marketing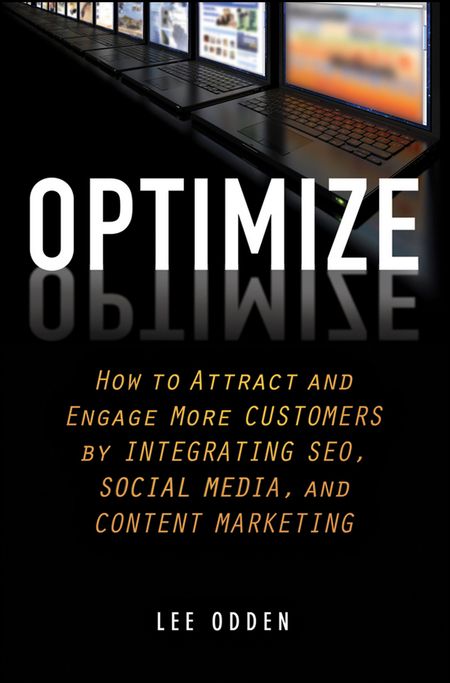 Attract, engage, and inspire your customers with an «Optimize and Socialize» content marketing strategy Optimize is designed to give readers a practical approach to integrating search and social media optimization with content marketing to boost relevance, visibility, and customer engagement. Companies, large and small, will benefit from the practical planning and creative content marketing tactics in this book that have been proven to increase online performance across marketing, public relations, and customer service. Learn to incorporate essential content optimization and social media engagement principles thereby increasing their ability to acquire and engage relevant customers online. Optimize provides insights from Lee Odden, one of the leading authorities on Content and Online Marketing. This book explains how to: Create a blueprint for integrated search, social media and content marketing strategy Determine which creative tactics will provide the best results for your company Implement search and social optimization holistically in the organization Measure the business value of optimized and socialized content marketing Develop guidelines, processes and training to scale online marketing success Optimize offers a tested approach for a customer-centric and adaptive online marketing strategy that incorporates the best of content, social media marketing, and search engine optimization tactics.
/ / похожие
Подробнее
Gregory Brooks Digital Marketing For Dummies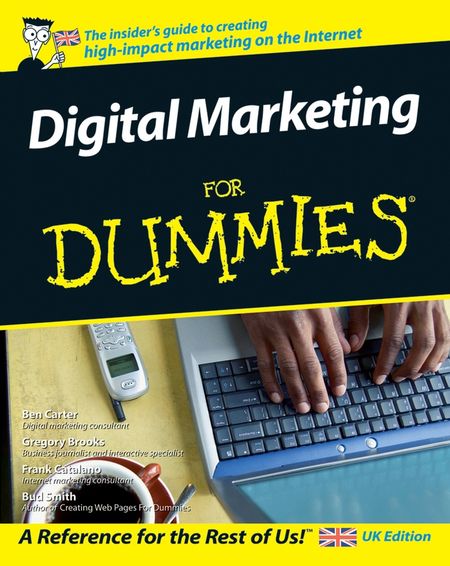 Thirty million online UK customers are just a click away, and Digital Marketing For Dummies shows you how to reach them. The author team of internet and marketing experts introduce you to the latest high-impact tools and techniques so you can promote your business with creativity and innovation, and stand out from your competitors.
/ / похожие
Подробнее
Mark Pollard Salesforce Marketing Cloud For Dummies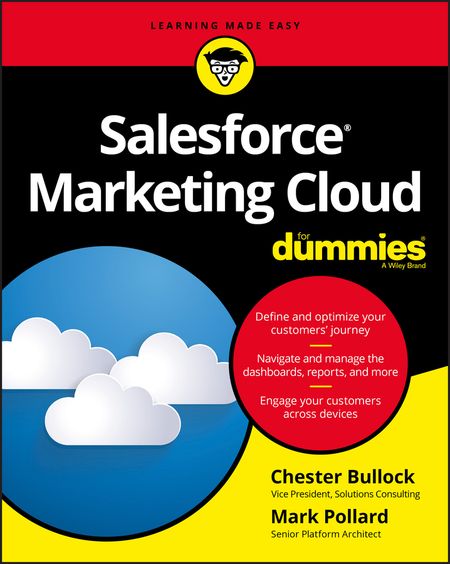 Salesforce Marketing Cloud: Take your digital marketing on a journey! Everything seems to be moving to the cloud these days—and digital marketing is no exception! Salesforce Marketing Cloud For Dummies guides you through the use of Salesforce's exciting suite of cloud-based digital marketing solutions, which have the power to help you plan, personalize, and optimize your customers' journey. Written by a leader of the Salesforce training and development team, Salesforce Marketing Cloud users will find essential information on using the suite of tools and tips and tricks that only an insider would be able to share. With easy-to-follow instructions, this guide helps you discover how to incorporate your data sets into the tools to create models, campaigns, and customer maps that enable you to create a positive experience for your customers. As Salesforce.com's multi-channel digital marketing platform, the Salesforce Marketing Cloud focuses on helping you manage one-on-one customer journeys. Leveraging a variety of features, this suite of tools offers email marketing, mobile marketing, social media marketing, content and messaging, predictive intelligence, and more. Your ability to navigate these features and functions will determine your digital marketing campaign's success, so it's critical that you make the most of this tool! Navigate and manage the Salesforce Marketing Cloud Define and understand your customers' journeys—and how you fit into them Engage your customers across devices, ensuring consistent communication Use predictive data to optimize engagement Salesforce Marketing Cloud For Dummies helps you make the most of your investment in the digital marketing world!
/ / похожие
Подробнее
Work in Progress - Career talk for women - Forbes
Susan Gunelius. FULL BIO. Susan Gunelius is a 20-year marketing veteran and President & CEO of KeySplash Creative, Inc., a marketing communications company.
an article - Entrepreneur
David provides constructive insight to help businesses focus on their company growth, build brand awareness and know when and how to raise money.
Entrepreneur.com Staff
Jason Fell is director of native content for Entrepreneur, managing the Entrepreneur Partner Studio, which creates dynamic and compelling content for our partners.
5 Secrets to Use Storytelling for Brand Marketing Success
Susan Gunelius is a 20-year marketing veteran and President & CEO of KeySplash Creative, Inc., a marketing communications company. She has directed marketing programs for some of the largest ...
Content-Marketing – Wikipedia
Content-Marketing ist eine Marketing-Technik, die mit informierenden, beratenden und unterhaltenden Inhalten die Zielgruppe ansprechen soll, um sie vom eigenen Unternehmen und seinem Leistungsangebot oder einer eigenen Marke zu überzeugen und sie als Kunden zu gewinnen oder zu halten.
How Customer Services Affects a Brand - Corporate Eye
Susan Gunelius is the author of 10 marketing, social media, branding, copywriting, and technology books, and she is President & CEO of KeySplash Creative, Inc., a marketing communications company.
The Value of Marijuana Licenses | Cannabiz Media
Susan Gunelius, Lead Analyst for Cannabiz Media and author of Marijuana Licensing Reference Guide: 2017 Edition, is also President & CEO of KeySplash Creative, Inc., a marketing communications company offering, copywriting, content marketing, email marketing, social media marketing, and strategic branding services.
The Effects of Big Data and Technology on the Marijuana ...
Susan Gunelius, Lead Analyst for Cannabiz Media and author of Marijuana Licensing Reference Guide: 2017 Edition, is also President & CEO of KeySplash Creative, Inc., a marketing communications company offering, copywriting, content marketing, email marketing, social media marketing, and strategic branding services.
Oui (magazine) - Wikipedia
Oui was a men's adult pornographic magazine published in the United States and featuring explicit nude photographs of models, with full page pin-ups, centerfolds, interviews and other articles, and cartoons.
Les Gold - Wikipedia
Leslie "Les" Gold (born June 20, 1950) is an American pawnbroker, reality TV star, author, media personality and speaker. He is known for his role on cable and satellite television truTV's reality series, Hardcore Pawn.
Creating To Giving Great Presentations: Hear From 10 Experts
Creating, designing, and delivering better presentations can be a challenge. Many individuals, marketing and sales organizations want a presentation software that can handle all of their needs.
65 Short Stories by W. Somerset Maugham Online Book PDF
Short Description of Book – Content: Rain The fall of Edward Barnard Honolulu The ant and the grasshopper The pool Mackintosh The three fat women of Antibes The facts of life